Book Your FREE Coaching Session Today
We believe in supporting local businesses through re-education and in the current climate many owners and senior leaders feel they need a little extra assistance. It is, for this reason, we give several hours of our time a week to businesses in and around Kettering, Corby, Rutland, and Market Harborough.
What We Do
We aid local Business Owners, Senior Executives, and Managing Directors to make better decisions, set better goals, reach those goals quicker, and improve team relationships.
We focus on the survival of your business and creating a successful future.  We not only guide you in clarifying your vision for your business, we will help you to align your business goals with your personal goals.  In essence, improve success, increase profits, and create a better work-life balance!
Don't believe us? Take a look at What Our Clients Say
We provide Business Coaching in Oakham, Kettering, Corby and Market Harborough. Our programmes range from 1-2-1 coaching and mentoring, casual coffee club sessions to high impact action and growth group coaching sessions.
Why have a Business Coach?
In short, because a Business Coach allows you to be the best you can be!
As a Business Owner, you understand your company, industry, and customers. Our job is to get you to question what you are doing and look for areas you could do better. Inevitably this will involve a bit of mentoring to provide you with tools and techniques that you have not used before, but primarily to hold you accountable and someone to discuss the business with.
Does every Business Owner need a Business Coach?
Every business could perform better than they are, however, it does depend on where you are on the business ladder as to what level of coaching you require.
If you are a start-up you will probably need more practical help around the business basics, such as getting financial and delivery control in place and help with marketing and sales. Our group coaching programmes are perfect for you and start from only £100 p.c.m.
For a more established business, you may have reached a plateau where you are not sure what you need to do next, in which case 1-2-1 coaching will be more suited to your needs as it's about working with you personally to re-define the direction of your business.
We will ask you hard questions, ensure SMART goals are set but most importantly ensure you work towards those goals and held accountable if you don't.
Alternatively, you may be ready to leave the business either looking to retire and sell up or set up to provide you with a passive income during retirement. In which case, 1-2-1 coaching would be more focused on working out how you structure the business to function without you and get the best sale price.
The reality is, Business Coaching at any level will look at all areas of your business, but the emphasis and what needs to be focused on will vary.
Who are we?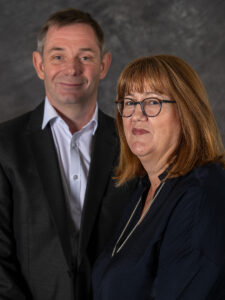 We are Angela and Rupert Turton and we are experienced Business Coaches (who also happen to be Husband & Wife) each with our own specialisms and extensive experience in senior management positions.
Having successfully led teams and businesses to success, we decided to buy into the ActionCOACH franchise because as it was aligned with our values of wanting to help local businesses to survive and thrive.
Not only have we been successfully making local businesses more profitable, but we have also successfully grown our own business and recruited a highly experienced team. You can learn more about us and our team here.
Broken pipeline? 
Dropping below break even? 
Losing cash due to lack of business?
Avoid breaking your business completely, book your free consultation with leading Leicestershire Business Coaches Angela and Rupert Turton.
Before you book your free consultation, we need you to take our quick assessment. This will help us identify the areas of your business that you could improve on. Your consultation will then help you to close the gaps that this short assessment has identified and ensure that your business can move forward quickly and effortlessly. You will then be taken to our easy booking form to book your consultation.
Business Growth Events
Upcoming Events
ProfitCLUB – Try it for free!
Get the same benefits that regular Business Networking brings, plus the added advantage of learning Business Building Strategies. Try it for free! Learn action-oriented and battle-tested strategies to Network and Improve your Business at theProfit CLUB. It's unfortunate that most business owners end up being driven by their business rather than the other way around.…
ProfitCLUB
View the full business events calendar